June 30th 2018:  3 hour introductory self-defense course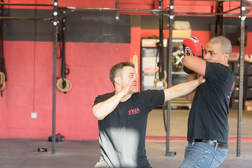 Where:
  Crossfit Route 7
8504-B Tyco Rd. Vienna, VA
Date:    Saturday June 30th 12:00 noon- 3:00pm
Arrive at 11:55am sharp for check-in.     
Pricing:    $60 individual registration
add $49 to include our Home Training Program-video training tutorial  $30 discount
Content:     
Cultivating a useful self-defense mindset
Managing encroachment into your space from someone you do not know
Stun & run tactics: learn and practice options for a preemptive attack to set up your escape
Principles of striking, power generation, and getting to your combative skill-set under stress
Defending yourself instinctively and intelligently with simple, protective structures
This course is open to men and women
*Class capacity 20 people max:
The content of this course is intended for adults; mature teens may also attend, ages 15+ (if 15-16, and adult must register and also take the course with the minor). 8 day cancellation policy at the bottom of the page is strictly enforced.
To Register please click here: http://novaselfdefense.com/upcoming-training.html
=========================
Strict Pull ups
RX: 5 x 5 Max Effort Weighted
*After 5th set immediately drop weight and perform 1 Max Effort Body weight Set
Fx: 5 x ME Body Weight
*Chest to bar if possible
rest 1:30-2:00 between efforts
Development: 5 x 8 of Most difficult Mod
*Seated
*1 legged Box with negatives
For Time:
20 Russian KBS 24/16
20m Suitcase Walking Lunge 24/16 (10L/10R)
400 m Run
20 Goblet Squats 24/16
20m Front Rack Walking Lunge 24/16 (10L/10R)
400m Run
20 Kettlebell Sumo Deadlift High Pull 24/16
20m Overhead Walking Lunge 24/16 (10L/10R)
400m Run
Rx+32/24